Struggling to cope with the fast-changing world of work?
Concerned that automation & AI may replace your job?
Considering a new career but don't know how to start?
Unleash Your Potential & Beat the A.I. Revolution with 'No Job? No Sweat!' - The Comprehensive Guide to Your Career Development & Success!
Are you concerned about AI's increasing prevalence in the job market?
Do you worry that your skills and knowledge may become obsolete?
Digital disruption and automation are displacing or reconfiguring jobs. As a result, the career becomes uncertain. It's no secret that finding a job can be tricky. But continuing in a job is tougher as AI and new technologies challenge humans.
Fear not!
Han's book, "No Job? No Sweat!" is here to guide you on how to beat AI and stand out in the job market.
This comprehensive guide offers practical tips on
How to use AI to your advantage,
Turn your knowledge into income, and
Overcome barriers to employment.
Additionally, it offers helpful tips for navigating the job market and standing out from the crowd in an interview. 
The Han Career System sets this book apart, which offers an original and creative approach to career development. This system encourages readers to explore 3 career options:
Employee,
Entrepreneur, or
Explorer.
There is practical guidance on pursuing each path. Whether you prefer a traditional career path as an employee or want to start as an entrepreneur or explorer, this book covers you.
But that's not all!!!
The book also comes with several extras, including
A Color Book Mind Map, map to help you grasp the key points in just 10 minutes!
Your Career Action Plan, with samples provided, making it easy to put what you've learned into action
Two Bonus book chapters on "100+ Ways to Make Money Online and Offline" and "Overcoming Barriers to Starting Your Own Business."
If you don't have time to read the entire book, Han's got you covered with two 60-minute videos on "Secrets to Interview-Getting Resumes" and "Acing the Interview," complete with curated templates and interview Q&A samples
An all new ChatGPT prompt list for effective job search, which is new and exclusive to this book.
The book is for people who want to keep pace with the job trend and have a successful career. Professionals, managers, and executives who want to turn their know-how into income should read the book at least once!
Whether you're a recent graduate, someone facing a career transition, or a career coach seeking new practical ways to support clients, this book has something for everyone!
The book is available in physical and ebook formats, with the physical book priced at $30 and the ebook at $24.
So what are you waiting for?
Click to buy NOW to get your hands on "No Job? No Sweat!" and grab the 5 BONUSES while they are available!
Still not sure about investing in your Future?
No worries!
Test drive the free 50+ page book excerpt by telling us where to send it below.
*But be forewarned!
Your competitor who bought the book today will be way ahead when you come back tomorrow😊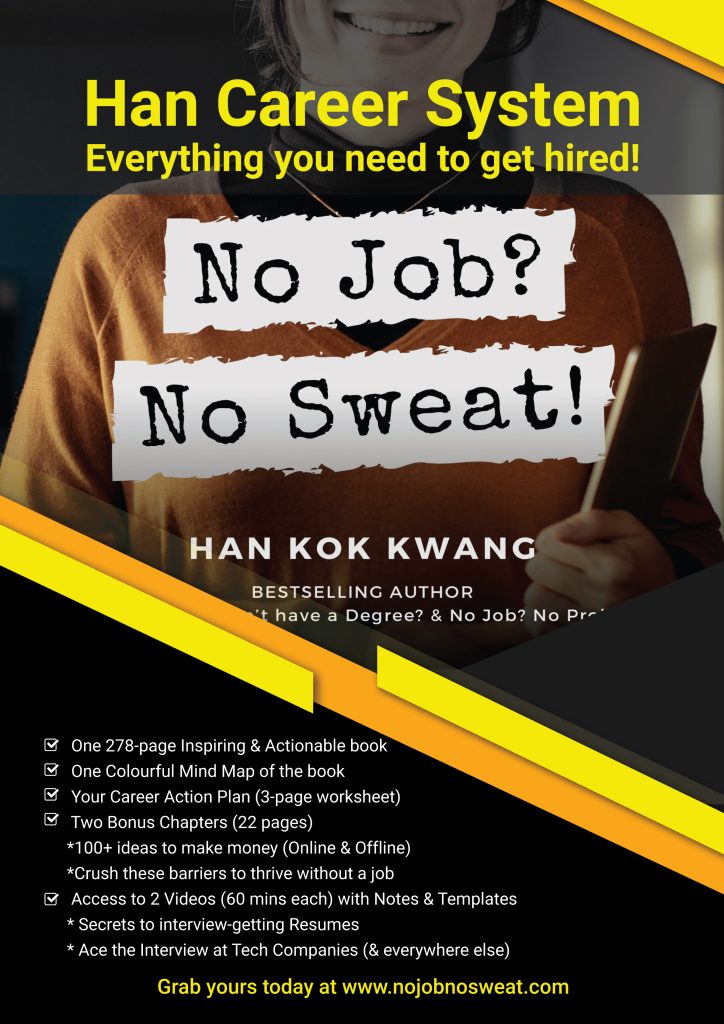 "No Job, No Sweat" is a thumbs up must read, whoever you are, wherever you are. Singaporean best-selling author, international NCDA master trainer and career development guru, Han Kok Kwang, couldn't have said it better: shift your mindset to #NJNS mode. In this ever-changing VUCA Artificial Intelligence (AI) world accelerated by the global COVID pandemic, Han offers hope for job-hunters and career changers through his excellent #NJNS income generating strategies.
Han definitely knows how to choose a career to win from his talents. He knows how to navigate in the new world of work with no sweat! He knows how to see from a unique perspective and turn AI & Automation into your advantage! Now you can also find success your own way, by simply applying what you will learn in "No Job? No Sweat!"!
Han's book, "No Job? No Sweat!" is a fascinating read. It takes the best, most up-to-date and valuable information in the job search field, adds a creative approach, and provides a path through the major pitfalls and mental blocks to point others in the right direction. I would recommend this book to anyone considering a job change
"No Job? No Sweat!" is a must-read book for professional, managers and & executives to turn your know-how to into income! In the book, you will learn the latest tips to navigate in the new world and build a rewarding career in corporate! Enjoy reading and take massive action after learning!
Han's "No Job? No Sweat!" is a grounded perspective, together with rich know-how suggestions to respond to the Artificial Intelligence (AI) challenge in the world of work.
No Job? No Sweat! (NJNS) is a must-read book written by best-selling author and award-winning career development coach and human resources professional, Han Kok Kwang. NJNS provides practical tips to support individuals to manage their career in an uncertain world where digital disruption and automation displaces or reconfigures jobs and job security is a thing of the past. But new work opportunities emerge. The NJNS mindset orients individuals to identify problems that companies need to solve and use their know-how to create new work and income earning opportunities, as employees, explorers or entrepreneurs. The practical advice and guidance in NJNS will be of value to: *Students close to graduation in high schools, vocational colleges and universities and recent graduates. *Adults facing career transition (anticipated or unanticipated). *Career coaches and counsellors seeking new practical ways to support their clients' career development. *Career service managers and librarians wanting to stock career library shelves with innovative career development self-help publications.
There are three types of people: Those who make things happen, those who watch things happen, and those who wonder what happened. People who are working in their dream careers don't wait for things to happen, or hope someone will open a door for them. Instead, they step up and lead their own journeys, create their own experiences and carve their own paths. Han (Kok Kwang) is one of them! He is constantly making things happen, doing things he doesn't feel like doing, and making difficult choices to stay relevant in his profession. This book is not for everyone. It is for people who want to make things happen. If you want to be a winner, grab it before your competition do!
This book comes with practical and actionable advice for professionals, managers and executives (PMEs) to navigate fast-changing job markets disrupted by automation and AI. Whether you are a fresh graduate starting out in a new job, a seasoned executive taking the next quantum leap in your career, or a veteran professional reinventing yourself, Han's book is an invaluable resource for you to achieve and manifest your career ambitions. His breezy conversational writing style cuts through dense human resources jargon and enables readers to easily digest and apply his nuggets of wisdom in their professional careers. I highly recommend Han's book and can't wait for the next one!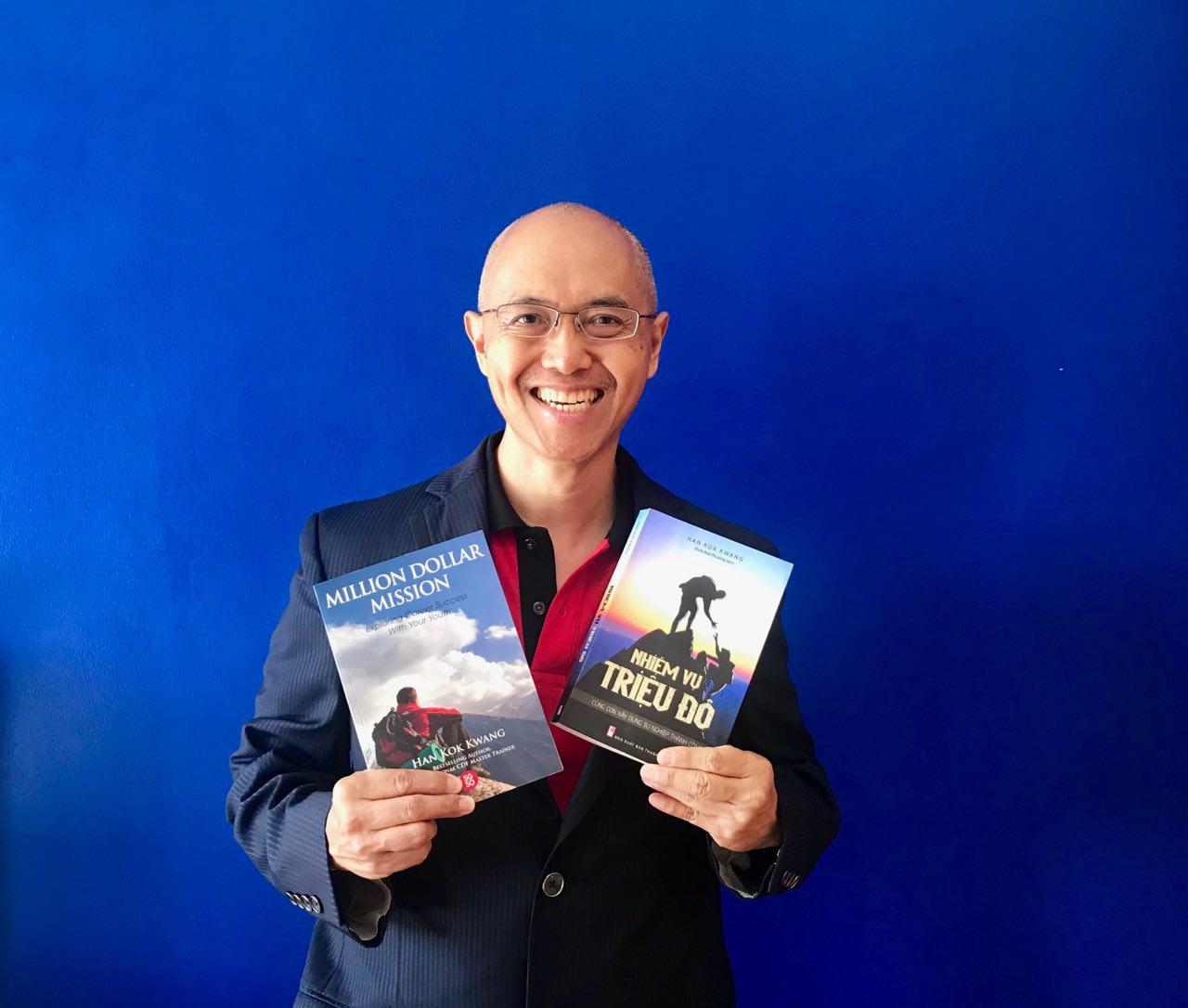 Han Kok Kwang is inspired by the corporate renaissance man ideal. Academically, he has earned both his PhD and MBA. Professionally, he has won awards for excellence from national associations across 4 different domains over 22 years. This is consistency!
1997: Won the National Human Resource Professional of the Year Award with his Team, awarded by the Singapore Human Resource Institute (SHRI).
2002: Won the Inaugural National Life-Long Learner Award awarded by Mediacorp Radio & Ministry of Manpower
2017: Won the Best Personal Brand Award (Entrepreneur category) awarded by the Marketing Institute of Singapore (MIS).
2019: Won the Outstanding Educator of Career Professionals Award awarded by the Asia Pacific Career Development Association (APCDA).
Wrote 2 Bestsellers, "No Job? No Problem!"& "So what if you don't have a Degree?" that inspired thousands of readers
Empowered & certified the Pioneer 10 batches of Employability Coaches in the Employment & Employability Institute in Singapore, who went on to assist over 40,000 Singaporeans during the global financial crisis in 2009-2010
Empowered more than 100,000 people from 21 countries in their career development through his books, programs and writings on LinkedIn
Continue the conversation with Han at https://www.linkedin.com/in/hankokkwang/ on LinkedIn or at www.personalmaster.com. Carpe Diem!
Download your Exciting Book Excerpt below!